1685 Magnolia Drive, Healdsburg, CA 95448 -- (707) 433-7455 | FAX (707) 433-5683 | info@russian-river-rose.com
Our Display Garden
Virtual Tour
The rose garden began in 1980 when Jan?s Grandmother innocently gave her some Christmas money to buy roses for the vineyard row ends. Added to that have been roses collected in the village of Mendocino, from old homesteads with our ?Russian River Rose Rustlers?, and many irresistable ones bought along the way -so that we now have over 650 varieties in our collection.

The original 1950's house (850sq.ft.) was remodeled by adding the turret and two story wing (1983-1991). Michael and Jan designed the house, and spent the next 8 years building much of it themselves.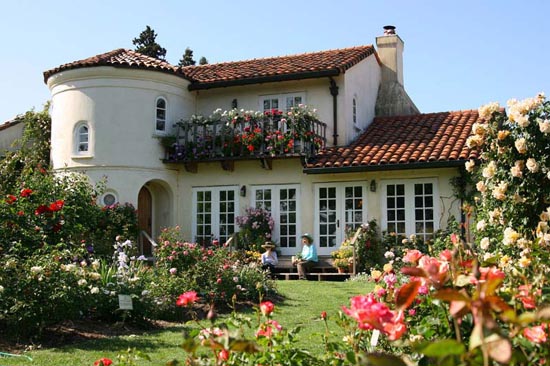 Share in the fun with a virtual tour - just roll over the map to get a bit more info!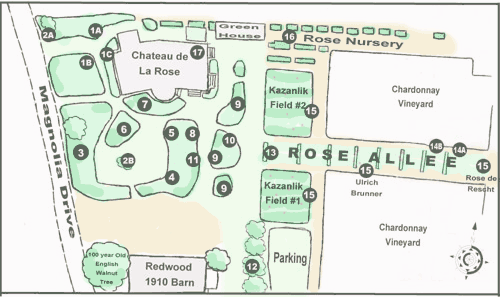 We strive to minimize sprays in our garden. At pruning time, we thoroughly clean away dead leaves and use organic dormant spray. In spring we release lady bugs for aphid control. If a pest gets out of hand we'll spot spray. Otherwise, what you see here, is what you will get in your garden if you plant our roses. Hope you enjoy them!
Photos courtesy of Mikala Kennan.