1685 Magnolia Drive, Healdsburg, CA 95448 -- (707) 433-7455 | FAX (707) 433-5683 | info@russian-river-rose.com
Our Store
Order Form rose oil garden toolbelt gift certificate
Rose Embrace -- our special rose oil
"Rose Embrace" eau de toilette is made using an ancient steam distillation process on a blend of "4" estate grown roses: Kazanlik, Rose de Rescht, Souvenir de Claudis Denoyel and Ulrich Brunner. The oil is then aged 4 months and finally blended with a bit of natural ambergris (a classic fixative to extend the scent on your skin) and packaged in handy purse size atomizer.



This scent simply puts one in another place; some it reminds of their grandmother's happy rose garden. This all natural rose oil product does not contain any "synthetic" rose oil which is commonly found in some 90% of perfume products.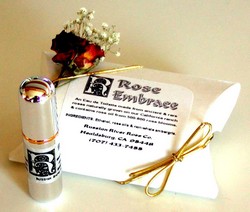 These are estate made scent products with no pesticide or fungicide sprays. Contains alcohol.

Available in a lovely 1/6 oz. purse-size atomizer (3" long).
A mere 150 to 250 packages are produced annually.



Shipping is only $7 boxed.



Rose Embrace

1/6 oz. Eau de Toilette
(w/gift box)

$33.50

Rose Embrace

1/6 oz. Eau de Toilette

$32.00