About Our Company
contact us, testimonials, press, mailing list
The whole story of Mike & Jan
Jan and Michael Tolmasoff are the energy behind Russian River Rose Company. Together, Jan and Michael have established one a very special garden in Northern California. They have developed exclusive cultivars registered by the American Rose Society and re-introduced historic Bulgarian perfume-making methods. Jan is a noted rose lecturer throughout the Bay Area, sharing her knowledge of rose history and garden care, and her love of beautiful roses.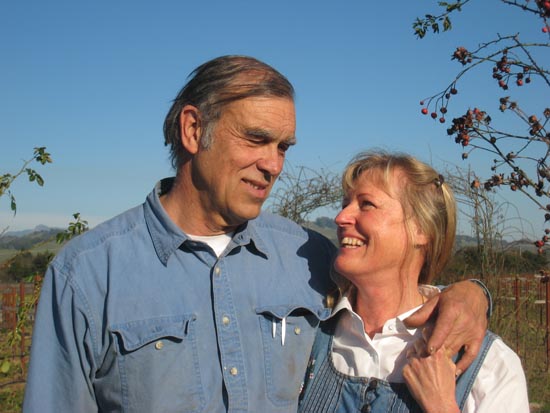 Partners in life as well as in business, this duo is a delightful study in contrasts. Jan and Michael are warm and engaging when you meet them at the Healdsburg Farmers Market. They look like kids that grew up on local farm. In fact, they each have impressive academic and professional backgrounds. Their idyllic farm and lifestyle was a conscious choice they made in 1976 when they moved from Southern California. They wanted to raise their family in as wholesome an environment as possible.

Jan Tolmasoff was born in Baltimore, Maryland into an academic family. Her father, an internationally renowned researcher in the molecular biology of aging, established the foremost journal on molecular gerontology. Jan's mother and father were both graduates of John's Hopkins University, and discussions around the dinner table centered on biochemistry and politics. This foundation set the stage for Jan who attended USC and studied biology. While there as a sophmore she met upper-classman Michael Tolmasoff in a registration line. They hit it off immediately.

Michael Tolmasoff grew up in Los Angeles in a unique Russian religious community, known as Molokans. His grandparents had immigrated to California from Russian in the early 1900s. Michael became a champion swimmer, setting several records. He garnered a scholarship to USC where he continued to swim, play water polo and major in chemical engineering.

While in college, Michael and Jan helped start the USC Institute on Human Population and Environment. They participated in the very first Earth Day and advocated composting at a time when it was revolutionary thinking. Michael started a radio program entitled "Action Ecology" at KUSC where he interviewed guests and ran the engineering booth-at the same time.

Michael went to work as an engineer for the Los Angeles Air Pollution Control District before moving to Sonoma County where he headed the North Coast Air Quality Management District for 18 years. He then decided to put his talents to work in making another kind of impact on the air ' growing fields of roses for perfume oil extraction, and has developed California's only, estate produced, rose oil perfume and rose water.

Jan and Michael have philosophy that is biodynamic in theory, encourages beneficial insects to flourish, and limits the use of pesticides. Jan endorses the natural ebb and flow of the "beneficials" and natural predators.


They use natural recycled mulch and have hardy, strong plants as a result. Jan believes that growing roses should be a joyful process. She listens carefully to the needs and lifestyles of her customers so she can help them select exactly what is right for the client as well as the growing conditions.

Russian River Rose Company is a family endeavor. Jan and Michael raised their two children, Alex and Tanya, on the property where they grow magnificent roses. Today, their grandson, William, joins in the fun and, together with his "GranJan", has helped developed four rose cultivars introduced by the Russian River Rose Company in 2007.

The Tolmasoffs invite you visit their garden and perfume fields - to enjoy the amazing history, variety, scents and beauty of this most beautiful "Queen of Flowers".